EHAM QTH QRZ ARRL HRO ICOM KENWOOD YAESU
TUESDAY EDITION: What do you do for fun in Wyoming??? I heard of cow tipping but these guys sneed a new hobby....A family in Camden County is spreading holiday cheer with over 50,000 lights. ....I have froze my ass of but never have heard of this before. Swedish cross-country skier Calle Halfvarsson experienced an unusual but not unheard-of consequence of competing in icy temperatures in Finland at the weekend.
Amateur Radio Gets Waiver for Pearl Harbor Day Activities
FCC acknowledges opportunity for amateur and military communities to practice communication skills
The FCC has issued a waiver to allow ham radio operators to communicate with federal stations on and around Pearl Harbor Day.
The American Radio Relay League requested the limited four-day waiver from the Mobility Division of the Wireless Telecommunications Bureau.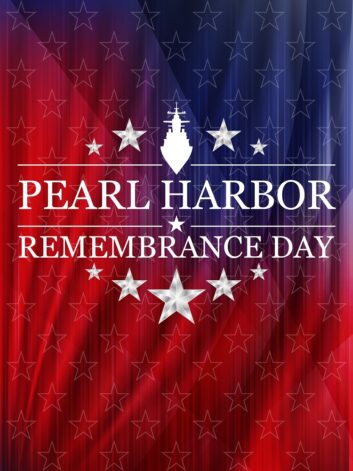 "The waiver request is for the limited purpose of a short-term event relating to National Pearl Harbor Remembrance Day, commemorating the 82nd anniversary of the Pearl Harbor attack, and to allow amateur licensees to practice communication techniques with the United States military from Dec. 6–9, 2023," the commission explained.
Section 97.111(a) of its rules authorizes amateur stations to transmit specific types of two-way communications and limits communications with federal stations. (The rule does grant such authority for one such event, the Armed Forces Day Communications Test, but no other commemoration day is authorized explicitly.)
ARRL said the waiver will allow tests to help train operators and test communications capabilities between military communicators and radio stations in the Amateur Radio Service, allowing operators to demonstrate their skills in a controlled context. It said the amateur operators would follow FCC regulations including mode, maximum power and license class. ARRL added that the relevant military authorities support these cross-band operations.
The commission approved the request. It said the event "presents a unique opportunity for the amateur and military communities to practice communication skills under the guidance of military officials, which may be useful in the future and serves the public interest." It added that "this day has a historic significance and emphasizes the importance of reliable communications and the need to be vigilant in our national defense."
The waiver is conditioned on participating stations monitoring the three identified federal frequencies of 14.375 MHz, 18.1625 MHz and 21.856 MHz; responding on spectrum allocated to the amateur service and only at the request of event organizers; operating consistent with the privileges of their amateur licenses; and limiting communications to the period Dec. 6–9.
FCC Finds Collecting Pirate Radio Fines a Challenge
Unclear if collection of fines under the PIRATE Act will be easier
When the FCC earlier this fall imposed a gigantic $2.3 million fine on Radio Impacto 2 — the notorious unlicensed radio broadcaster in New York City — it gave the operators 30 days to pay the forfeiture.
Yet it is unclear, even though the deadline to pay has passed, whether or not the FCC collected a penny from Cesar Ayora and Luis Angel Ayora, the operators of Radio Impacto 2.
"We do not release non-public information about our ongoing investigations, which includes whether a forfeiture is paid or not," said an FCC spokesperson.
This lack of clarity from the FCC is not new. Collecting pirate fines under the current rules — and previous ones — has always been a challenge for the agency. The commission has no authority to take action against individuals who ignore penalties. Instead, the FCC must rely on the U.S. Department of Justice (DOJ) to enforce the penalties in court.
In the case of the Ayoras, they were ordered on Oct. 12 to pay the forfeiture within 30 days or face having it turned over to the Department of Justice for enforcement. The Aroyas are alleged previous offenders. The commission issued Luis Angel Aroya a $20,000 forfeiture in 2015, which was never paid. However, in 2016, the U.S. Marshals Service seized the Aroyas' broadcasting equipment, according to previous Radio World reporting.
[Related: FCC Writes Up 3 More NYC Pirates, This Time With $6M in Proposed Fines]
In recent months, the FCC has made headlines by levying heavier fines against unlicensed broadcasters and landlords, as allowed under the PIRATE Act. The act has also provided more resources to the FCC to increase routine sweeps for radio pirates, but seemingly no other tools to collect forfeitures from offenders.
How much priority the DOJ gives to collecting fines is also unclear. Washington attorneys have told Radio World previously the DOJ has other higher priorities — like drugs and crimes of violence — rather than pursuing pirate radio broadcasters.
Scott Flick, communications attorney at Pillsbury Winthrop Shaw Pittman, said it's likely the FCC's isn't looking to collect issued fines, but rather to deter offenders and emphasize to others that pirate radio is risky business.
"The FCC will still need to pursue collection of pirate radio fines through the Department of Justice in order to make that deterrent effect real enough," Flick told Radio World. "Being sued by the DOJ for collection of the fine is likely a sufficiently painful process to deter most individuals, whether the fine itself is ever actually collected or not."

Flick said he agrees with other observers that "issuing fines that no one ever seeks to collect won't scare many pirates" into stopping the practice.
"My assumption in most cases is these defendants don't have the assets to pay even much smaller fines," he said in an email.
The FCC has asked for more authority to collect delinquent fines from illegal broadcasters. Pirate radio is an unauthorized transmission of radio signals on the frequencies in or adjacent to the FM and AM radio bands.
The FCC doesn't get to keep the money collected as a result of fines, according to the agency. The amounts are deposited with the U.S. Treasury.
MONDAY EDITION: A beautiful start to the day here on the Isle of Cape Ann....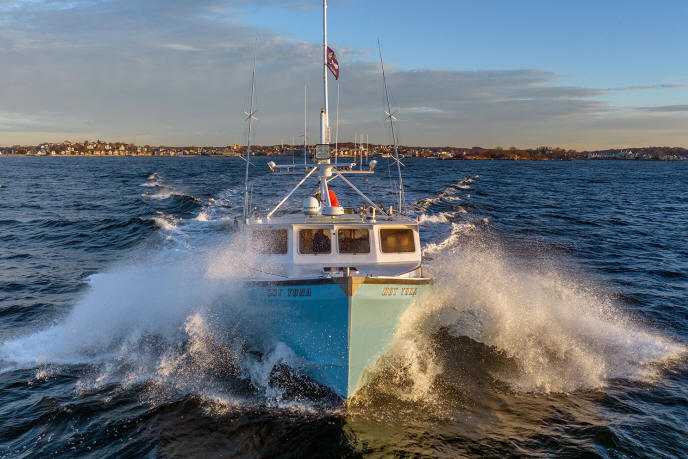 F/V Hot Tuna heads out this morning...
There should be a HAM Radio in every village: MOSC
North East, Nov 26, 2023 : Marked a momentous occasion in the world of amateur radio as the Minister of State for Communications, Shri Devusinh Chauhan, yesterday inaugurated Hamfest India 2023 at Vigyan Bhawan, Science City, Ahmedabad, Gujarat. This two-day national convention commenced on November 25, 2023.

Shri Devusinh Chauhan during his address to the gathering stated around 1000+ HAMs attended HAM FEST INDIA 2023. HAMs are always ready to help when all communications fail. He also added that WPC Wing within the Ministry under the guidance of hon'ble Prime Minister and Cabinet Minister Shri Ashwini Vaishnav ji has undertaken significant reforms in the field of HAM Radio examination and certification, regulations, and processes. The implementation of the Saral Sanchar Portal received an overwhelming response with licenses issued promptly.

The Minister expressed his vision, stating, "I believe there should be a HAM in every village, just like in some of the other countries, where there are more than 1 lakh HAMs. HAM should proliferate to every village in India."

Shri Devusinh Chauhan emphasized pivotal role of HAM technology in emergencies, advocating for its widespread use in society's interest. He urged the integration of HAM education in primary and secondary schools to ensure widespread adoption and aid in disaster response across the country. He concluded by commending efforts of HAM team, encouraging them to continue their remarkable work.

Hamfest India 2023 brings together a diverse community of amateur radio operators, showcasing the latest innovations, communication techniques, and technological advancements. With over 10 technical workshops and 5 stalls highlighting designs and innovations, the event offers a comprehensive platform for enthusiasts to explore and engage. The event not only fosters a space for HAMs to connect but also hosts a trade show, flea market, and an array of activities tailored to cater to the interests of amateur radio operators.

One of the primary highlights of Hamfest India is the opportunity for HAMs to engage in Eyeball QSO (Face-to-Face Meetings) rarely possible during regular radio interactions. The event encapsulates seminars on technical, operational, and legal aspects of amateur radio, alongside license examination sessions and the display and sale of various radio equipment by commercial vendors and individual HAMs.

In addition to the technical engagements, Hamfest India 2023 integrates cultural programs and photo sessions, further enriching the experience for participants.

History and Significance

Hamfest India 2023 stands as a signal to the continuing spirit and evolution of amateur radio, uniting enthusiasts, fostering innovation, and celebrating the advancements in the field. As the largest gathering of Indian HAMs in one place, this event signifies the vibrant and prosperous community of amateur radio operators in India.

Hamfest India holds a significant place in the history of amateur radio in India, dating back to its inception in 1991. The event has been pivotal in uniting amateur radio enthusiasts, providing a platform for networking, knowledge sharing, and staying updated on the latest developments in the field.

The journey of amateur radio in India traces back to the 1920s when Signal Corps officers sowed the seeds of this captivating hobby. Amarendra Chandra Gooptu and Mukul Bose were among the pioneers of amateur radio operations in India, and the community has steadily grown since then despite occasional interruptions, including during the freedom struggle.

Post-independence, the establishment of the Amateur Radio Club of India in 1948 marked a new chapter in India's amateur radio narrative. Over the decades, Hamfest India has played a crucial role in fostering innovation, community building, and service.

About Amateur Radio (HAM Radio):

Amateur radio is a popular hobby involving use of radio frequency spectrum for non-commercial purposes. HAM radio operators communicate using designated radio frequencies, engaging in diverse activities like contests, emergency communication support, experimentation, technical learning and community engagement.

The hobby offers a unique blend of technical learning, community engagement, and global connectivity through radio waves, emphasizing innovation and service.
WEEKEND EDITION: 22 degrees at 6am on the dog walk this morning...HRO has some pretty good sale prices on ham gear, it's worth a look on their web page.....Another Thanksgiving in the books, now Xmas.....I should not have to tell you but the ARRL is closed again today, closed for any reason whatsoever and your dues have gone thru the roof. They take more days off than I do and I am retired.....
Longmont's Santa on the Air radio call-in program starts next week
The Longmont Amateur Radio Club and the Northern Colorado Amateur Radio Club are teaming up for the third year of putting Santa Claus on the radio this holiday season.
LARC and NCARC will run Santa on the Air from Monday through Dec. 10. The event invites kids to talk to Santa at his North Pole home using amateur, or ham, radio. Santa — Longmont's John Chilson — will be available from 5 to 7 p.m. all days.
Santa will send a QSL card, a written confirmation of the radio conversation, to all kids who call in. Callers will also have the chance this year to talk to Mrs. Claus on a few special nights.
A list of repeaters for Santa on the Air can be found at bit.ly/49O2p8X. Anyone interested in helping run this year's program is encouraged to email "Elf Chucky" at k0itp@w0eno.org.
World's 1st electric flying passenger ship could 'revolutionize how we travel on water'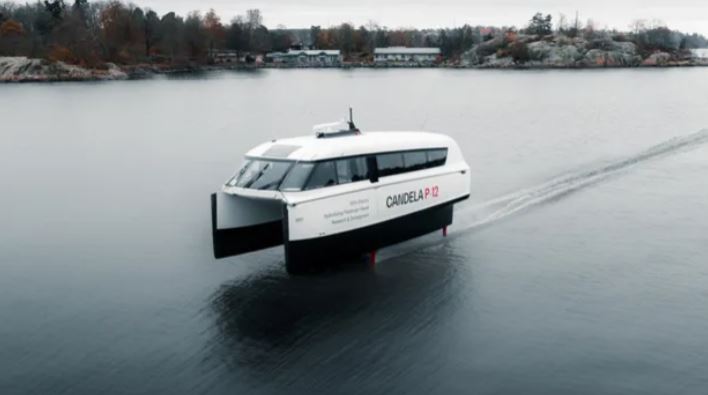 The world's first electric flying passenger ship has completed test flights in Sweden and will now enter production ahead of its introduction into Stockholm's public transport network in 2024.
The Candela P-12, designed by Swedish tech company Candela Technology AB, is 39 feet (12 meters) long,runs on a 252 kilowatt-hour battery and can carry up to 30 passengers. By contrast, the battery in a 2024 Tesla Model 3 is up to 75 kWh.
It will fly at up to 25 knots (29 mph, or 46 km/h) — although it can reach maximum speeds of 30 knots (35 mph, or 56 km/h ) — with a range of up to 50 nautical miles (92.6 kilometers).
The vessel "flies" using hydrofoils, which are lifting surfaces that operate in water to elevate a boat's hull above the water's surface — similar to airfoils that help planes lift off from the ground. Hydrofoils reduce drag from the water, which enables vessels to achieve greater speeds while using less power than conventional boats.
The P-12 uses computer-guided hydrofoils to elevate its hull, and it consumes 80% less energy while moving at speeds of more than 18 knots (21 mph, or 33 km/h) versus traditional vessels, the company said in the statement.
Candela's flying ship runs with two custom-made engines with 340 kilowatts of total peak power. When in flight, the P-12's digital flight control system can adapt to waves, wind and water currents by adjusting the hydrofoils' angle up to 100 times per second. This system may help to reduce the chances of passengers experiencing seasickness, the company said in the statement.
The P-12 also aims to be more sustainable than conventional vessels because it runs on electric power. Most electric ships built to date have a limited range and slow speeds due to the excessive energy consumption of their hull, keeping adoption rates low. But the P-12's reduced water friction, thanks to its hydrofoils, lets it run using less power than conventional boats and therefore travel farther using battery power.
TOP 20 MOST COMMON PASSWORDS OF 2023
password
123456
123456789
guest
qwerty
12345678
111111
12345
col123456
123123
1234567
1234
1234567890
000000
555555
666666
123321
654321
7777777
123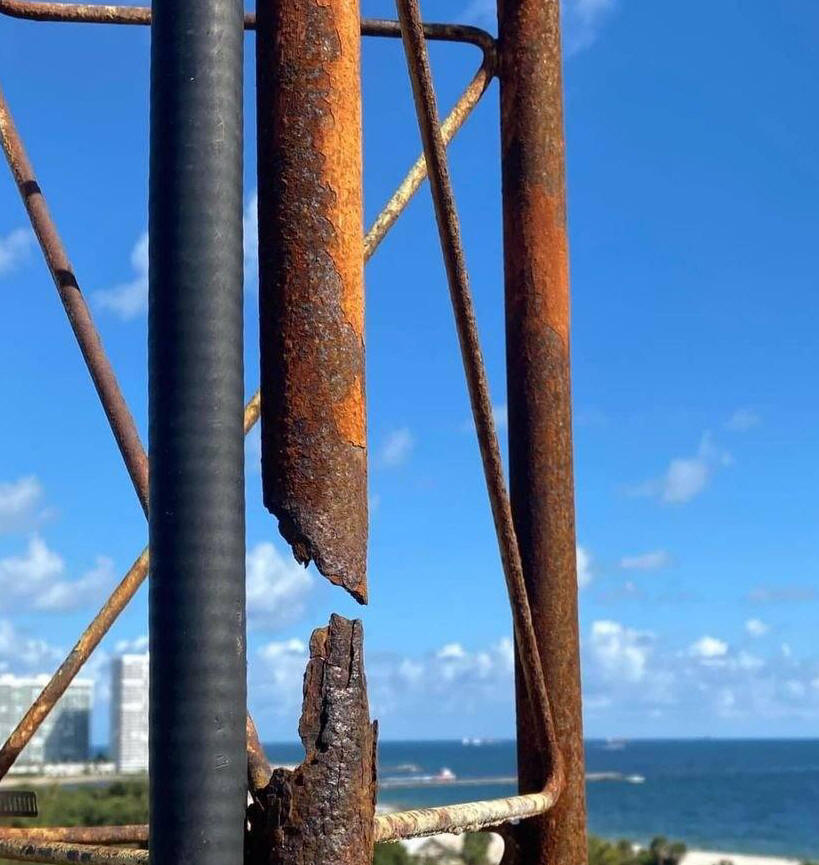 Salt water and towers don't play well together....
Amateur Radio Newsline Report

USING RADIOWAVES TO DIAGNOSE CLIMATE ISSUES

NEIL/ANCHOR: Our top story this week asks the question: Can radiowaves help diagnose climate issues? A team of researchers says "yes," and Kent Peterson KCØDGY tells us what else they're saying.

KENT: The atmosphere has a message for us and it's possible that we may be able to receive it thanks to the 6G networks of the future. This next-generation form of telecommunications is already being eyed for cellular deployment -- but its range from 100 GHz into the terahertz frequencies positions it for another - unintended -- use.

According to an article in the IEEE Spectrum, waves utilized by 6G are easily absorbed by gases in the atmosphere. As such, scientists may be able to use the radiowaves to discern what kind of atmospheric gases are present - especially the kind that imperil the well-being of the planet and those of who live on it. The Spectrum article quoted from a research paper in the journal, IEEE Network, in which Boston researcher Josep Jornet suggests that because different molecules absorb electromagnetic radiation differently, scientists can employ 6G transmissions in much the same was spectroscopy is used: to identify which molecules are present and what their concentration is. Jornet, in fact, calls it "over0the-air spectroscopy."

Although 6G networks are not yet ready for prime time, the study's authors believe a dual-purpose 6G network of the future could have immense benefits.

This is Kent Peterson KCØDGY.

(IEEE SPECTRUM)

**
PINK SATELLITE INSPIRED BY BUSINESSMAN'S DAUGHTER

NEIL/ANCHOR: A new satellite inspired by a Slovakian businessman's daughter is a family-friendly CubeSat with an educational mission -- and it's the first pink satellite to be sent into orbit. Jeremy Boot G4NJH introduces us.

JEREMY: Slovakian businessman Boris Procik is not just the father of a little girl named Veronika - he is also the father of a pink nanosatellite with the same name. The amateur radio satellite was launched recently as part of a SpaceX mission aboard a Falcon 9 rocket after a successful build by Spacemanic, a spinoff of the Slovak Organisation for Space Activities.

Those involved in the mission have declared the 1U CubeSat to be the first family-inspired satellite and certainly the first one that was built in the colour pink. Its features include a CW beacon and a digipeater. The download frequency is 436.680 MHz

Amateur Radio Club OM3KSI is operating the satellite and assisting with its various goals, which include getting grammar and high school students involved in receiving its transmissions which will include special messages in CW and AX.25 packet radio. The Prague Observatory and Planetarium, PLANETUM, will also share the educational uses of the little satellite.

This is Jeremy Boot G4NJH.

(AMSAT NEWS SERVICE, SPACEMANIC)

**
SILENT KEY: CHICAGO BROADCASTER, OUTDOORSMAN ORRIN BRAND, K9KEJ

NEIL/ANCHOR: A Chicago-area broadcast veteran and an active radio amateur has become a Silent Key. We hear about him from Andy Morrison K9AWM.

ANDY: Orrin Brand, K9KEJ, didn't just use radio as a licensed amateur. Listeners in the Chicago area knew him as Mike Jackson, an outspoken outdoorsman who hosted a radio program and wrote a column for more than two decades for the Daily Herald. He also spent a half-century working in radio and TV. According to his page on QRZ.com, his love of radio began with ham radio in the 1950s when he was growing up in Chicago.

As a radio professional, he hosted a conservative-leaning radio talk show that was broadcast on WCGO-AM and live-streamed on the station's web page as well as his own personal Mike Jackson webpage. An accomplished fisherman, he was inducted into the Fresh Water Fishing Hall of Fame in 2011 as a "Legendary Communicator."

Orrin Brand died on Wednesday, November 15th, at the age of 79.

This is Andy Morrison K9AWM.

(HAP HOLLY, KC9RP; QRZ.com; CHICAGO SUN-TIMES)

**
UNIVERSITY'S NEW HAM RADIO TOWER PREPS STATION FOR ECLIPSE

NEIL/ANCHOR: There's nothing like planning ahead, and on one Pennsylvania university campus the ham radio club has planned well for the next solar eclipse, as we hear from Sel Embee KB3TZD.

SEL: The amateur radio station at the University of Scranton has a new shack that will feature a panoramic look of the Pennsylvania city whose name the school carries but the best, most crowd-pleasing view will come not from looking out the floor-to-ceiling windows, but rather the new 40-foot tower and HF multi-band antenna installed there earlier this month on the campus. Amateur station W3USR will be ready to get on the air and, even more importantly, will be working to provide a unique view of its own in April when the sun enters a total eclipse over North America. Campus hams will be participating in the work of HamSCI, the citizen science research organization that has been assisting NASA's studies of how solar eclipses, such as the annular eclipse in October, affect the ionosphere and radio propagation.

The installation was funded with the help of private donations and an Amateur Radio Digital Communications grant earlier this year of almost $200,000 provided to physics and electrical engineering professor Nathaniel Frissell, W2NAF, the creator of HamSCI.

Of course, the collegiate amateurs will be keeping a close eye on terrestrial goings-on as well: The station also has VHF/UHF, satellite and microwave capability and can be part of the local emergency response network as well. Nathaniel, the club's advisor, has already helped many of the students receive the necessary emergency response training with the Luzerne County Emergency Communication Agency.

This is Sel Embee KB3TZD.

(ROYAL NEWS)

**
HAM RADIO WORKBENCH GOES ON THE AIR FOR 200TH SHOW

NEIL/ANCHOR: The Ham Radio Workbench podcast is fast approaching its 200th show and it's going to celebrate on December 3rd with a big HRWBOTA (pronounced: her-wuh-bow-tuh). No, I didn't just mispronounce another really large word; that's what the organizers are calling the event - it's short for Ham Radio Workbenches on the air. The hosts are marking the occasion with a four-hour activation on HF, DMR and AllStar that allows listeners to make contacts with each of the presenters and to score points. Be listening between 1800UTC and 2200UTC. No one's looking to make this difficult: If you work at least two hosts, you get a certificate of participation. There are bigger certificates too. See details on the website h r w b o t a dot com

**
HAMS BRING MISSING FATHER TO FAMILY AFTER 24 YEARS

NEIL/ANCHOR: Imagine being missing from your family for 24 years. An alert amateur radio operator in India was able to end one man's long absence from home by simply keeping his eyes open, asking questions and - yes - using his radio. We hear the details from Jim Meachan ZL2BHF.

JIM: It was not an amateur radio contact but a visit to a tea vendor at a bus station that led hams in West Bengal to bring a former military engineer and his family together after the man went missing 24 years ago. The family had last seen him when he was 44 years old and his son was 15. According to news reports, the father disappeared while enroute home to Uttar Pradesh from a military camp in Assam where he had been posted with the military's engineering services department.

According to a report on The Statesman website, the family was so certain he had died that in 2006 that they held a funeral ritual for him. His son, Rajkumar, told local news media that in spite of that, he and his two sisters never gave up hope that they would see their father again. The man's wife, however, died a year and a half ago as the search for him continued.

The secretary of the West Bengal club, Ambarish Nag Biswas, VU2JFA, told the Statesman that he'd spotted a man repeatedly during his frequent visits to a tea vendor at a bus station during the past few months. He began inquiring about the elderly man, who apparently had only limited information about his family and their whereabouts. The ham shared with his own club what little information he could gather about the man's connections to Uttar Pradesh. West Bengal hams contacted hams in Uttar Pradesh and they located the man's remaining family members. As Newsline went to production, the hams were working with local authorities to have the man return home.

This is Jim Meachen ZL2BHF.

A CHANCE FOR A QSO WITH KRENKEL MEDAL WINNERS

NEIL/ANCHOR: If you'd like to have a QSO with a prominent award-winner - or a whole bunch of them - now is the time to fire up your rig, as we hear from Jason Daniels VK2LAW.

JASON: The name E.T. Krenkel - Ernest Teodorovich Krenkel - is well known for his wide range of contributions to amateur radio, including his notable Arctic and Antarctic expeditions. The HF spectrum was his well-used tool for communication, experimentation and inspiration. There are 213 recipients of the E.T. Krenkel Medal, which was created to recognise individuals, organisations and other entities whose involvement in amateur radio exemplifies the polish and devotion of Krenkel, who became a Silent Key in 1971.

This year, on the 120th anniversary of his birth, the Krenkel Medal Committee has introduced a certificate that amateur radio stations and shortwave listeners can earn by making contact with - or giving a reception report for - as many of the medal recipients as possible worldwide. Each confirmed contact is worth 10 points and a minimum of 120 points is required.

A bonus of 50 points will be awarded for any shortwave or amateur radio contact with RK3F, the radio station of the Central Museum of Amateur Radio in Moscow Points will be doubled for any contact or shortwave reception with medal recipients on Krenkel's birthday, December 24th, the official Day of Remembrance for Krenkel.

This is Jason Daniels VK2LAW.

(BOB JOSUWEIT WA3PZO; KRENKEL MEDAL COMMITTEE)

**
INDIANA AMATEUR RECEIVES ARRL TECHNICAL SERVICES AWARD

NEIL/ANCHOR: Congratulations to Jeff DeLucenay, KB9QG, vice president of the Northeastern Indiana Amateur Radio Association, who was awarded the ARRL Technical Services Award. The award recognizes his ongoing work with the repair and maintenance of the radios and equipment at the club, where he keeps the antennas tuned and, when needed, rebuilt. He also customizes equipment for the club's needs when necessary. In addition, Jeff is responsible for training new hams and assisting others with upgrading their licenses.

He was given the award by the ARRL's central division director Carl Luetzelschwab, K9LA.

(THE DE KALB COUNTY STAR)

**
AMATEURS CELEBRATE GROWING ACCESSIBILITY FOR THE DISABLED

NEIL/ANCHOR: Hams throughout IARU Region 1 are setting aside a day to celebrate radio's growing accessibility for persons with disabilities. Jeremy Boot G4NJH tells us how to get involved.

JEREMY: The United Nations has declared the 3rd of December to be the International Day of Persons with Disabilities. Organisers in Region1 of the International Amateur Radio Union have been busy coordinating events for member societies. This is a day to recognise and celebrate the accessibility that amateur radio provides to everyone, either through special equipment designed to be used by hams with various disabilities, or recognising nets organised by disabled amateurs. Activities on this day celebrate the inclusion that radio offers despite many individuals' personal challenges.

The Region 1 coordinator, Riri OD5RI, told Newsline in an email that many member societies will be participating by getting on the air with special callsigns. There will also be other on-air events to raise awareness of the ongoing need for ham radio to be an inclusive community. Individual operators and members societies will be honoured for their participation.

Riri said the activities support the global programme's sustainable development goals which include the removal of inequality.

This is Jeremy Boot G4NJH.

(RIRI AZRAK, OD5RI)

**

WORLD OF DX

In the World of DX, listen for Yuri, VE3DZ, operating as 5B4AQW until the 28th of November. He will participate in the CQ WW DX CW Contest on November 25th and 26th as P3D. QSL via his home call.

Listen for Dima, RA9USU, using the callsign 7O73T (Seven-OH-Seven-Three-Tee) on Socotra Island, IOTA Number AF-028, until the 28th of November. He is operating mainly CW with some FT8 and will participate in the CQ WW CW Contest. See QRZ.com for QSL details.

The Radio-club de Lyon, F8KLY, will be on the air as TM1AB from the 25th of November to the 9th of December. The club is marking the 100-year anniversary of the first transatlantic amateur two-way contact between Leon Deloy, F8AB, and Fred Schnell, 1MO, on the 28th of November in 1923. For details see QRZ.com

Keith, GM4YXI, and Chris, GM3WOJ, are in the Shetland Islands, IOTA Number EU-012. They will participate in the CQ WW DX CW contest as GS7V. Before and after the contest, listen for them operating as GS2MP. See QRZ.com for QSL details.

(425DX BULLETIN)

**
KICKER: A LITTLE ANTENNA WITH A LOT OF CAN-DO

NEIL/ANCHOR: For our final story we ask: what can you do with a can of ham? Well, you can make a sandwich, for one thing - or you can make a contact on a local repeater. John Williams VK4JJW explains.

JOHN: Viewers of his YouTube channel, Ham Radio Rookie, now know that Ben Eadie VE6SFX has become a man with a can and a plan. The can once contained ham -- and the plan for the can was grand: Ben first ate the ham, washed the can and got to his plan. He turned it into an antenna.

That's right, an antenna. It was Ben's latest experiment on his channel's new feature called "Will it ham?" The 7-minute video shows him attaching a PVC pipe, adding a few 3D printed pieces to the assembly and putting a jumper on it to turn it into a slot antenna. After finding a likely feed point, he checks it with a NanoVNA and declares it beautifully resonant on 70cm and ready for a radio check on a local repeater with the help of a friend. He tells his friend "I am talking to you via a can of ham" and the good signal report that comes back is clearly no baloney. His friend asks: Would the antenna be as resonant if the ham were still inside? Ah, that's a question Ben could surely sink his teeth into.

Meanwhile, he tells YouTube viewers that he is in search of other possible projects that are too absurd for anyone else to do. What's in his future? Perhaps he'll turn a tin of tuna.........into a tuner.

This is John Williams VK4JJW.

(YOUTUBE, HACKADAY)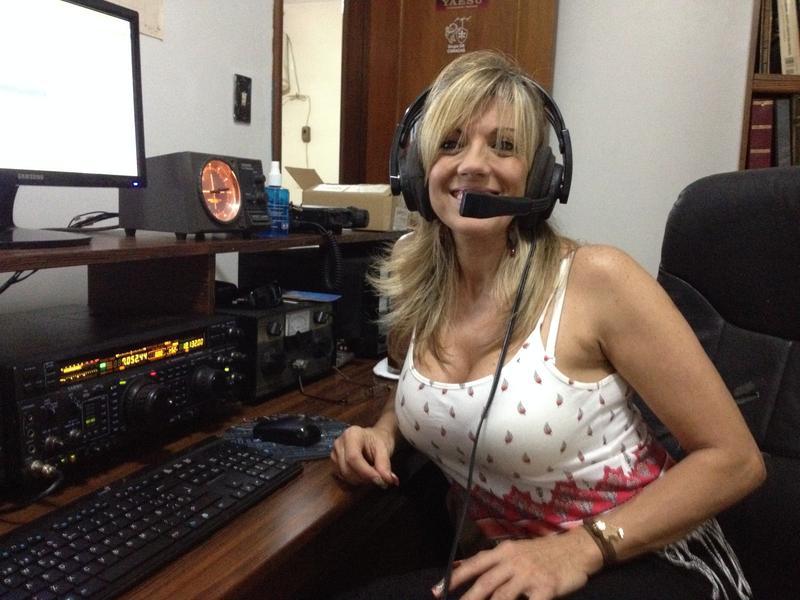 Jacqueline (Jaky) Rodriguez
Caracas, Venezuela
THANKGIVING EDITION: My favorite holiday; food, family, and football..
Ancient Greeks Invented World's First Telecommunications Device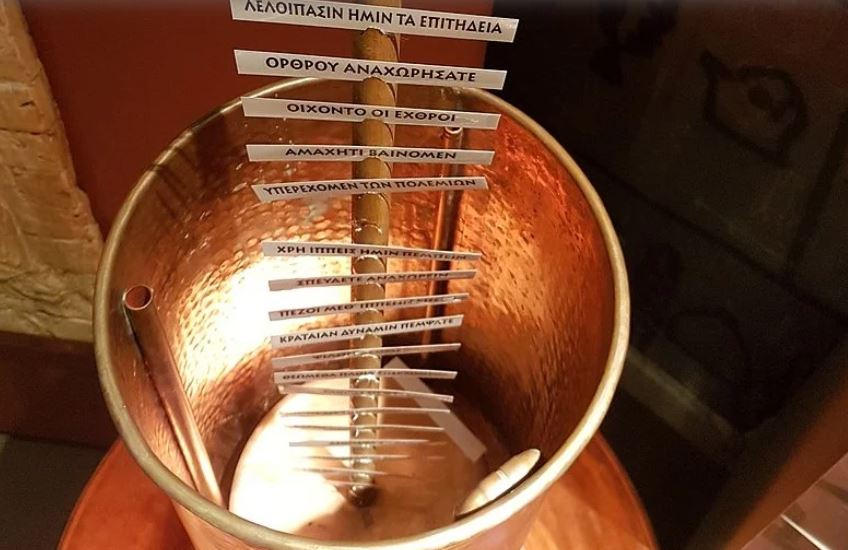 The hydraulic telegraph, invented by the ancient Greeks, had the capacity to send long-distance messages as early as the fourth century BC.
The ingenious apparatus is dubbed as the world's first telecommunications device. It was designed for military purposes by Aeneas Tacticus with the purpose of more efficiently sending pre-arranged messages across the vast empire of Alexander the Great.
Operation of the hydraulic telegraph is described in detail in Aeneas' work on sieges, Poliorcetika, which was retrieved by Polybius. The messages sent were along the lines of: "Enemy on sight," "Cavalry attack," "We need wheat," "Infantry in action," "Cyclical movement," and so on.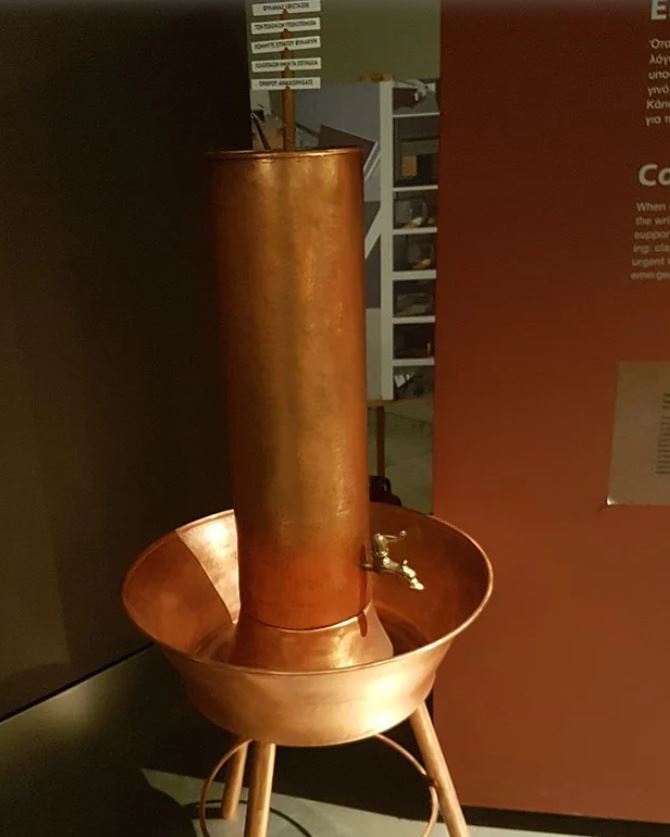 Hydraulic Telegraph Operation
The hydraulic telegraph was used by the ancient Greeks during times of war. There were numerous telecommunication groups of beacons placed on carefully selected hills in ancient Greece. The apparatus was operated by messengers who stood at a given hill and used clay or metal cylindrical containers of equal size filled with water up to three cubits in height and up to one cubit in width.
In each container, there was a cork floating. It was a little narrower than the mouth of the container. Rods, divided into equal parts, were inscribed with the same pre-agreed messages on each and attached to the center of the floats.
The operator-transmitter would lift a burning torch, signaling the operator-receiver for the sending of the message and then waiting for confirmation with the rising of the torch from the receiver. Thereafter, the transmitter lowered his torch so as to signal for the simultaneous opening of both taps on their devices.
The rods with the messages descended, and when the desired message to be sent
appeared at the rim of the transmitter's device, he raised the torch once again, signaling the receiver for the simultaneous interruption of the outflow.
Due to the geometric similarity of the devices, the desired message also appeared on the receiver's device. It was of utmost importance that there be absolute simultaneity between the transmitter and receiver operators. Both had to be quite careful not to send the wrong message, which would be disastrous in wartime. The description of the hydraulic telegraph was rescued by the historian Polybius in the second century BC.
Advancement in Communication Technology
The technology of the hydraulic telegraph seems rather simple, but its invention was marveled by ancient Greeks as a significant advancement in communication technology, as it allowed for pre-determined messages to be sent across long distances.
In the event of an intrusion or enemy approaching, they would only witness the brief torch flashes and would not be able to intercept the message in any way.
This development was also a great advancement in military communication and strategy. Messages were sent from Sicily to Carthage during the First Punic War (264 to 241 BC) using the hydraulic telegraph, also known as a Semaphore line.
Through this noteworthy invention, the military then had the ability to send specific messages that allowed other groups of military personnel, as well as civilians, to better prepare for potential land or sea invasions.
This early form of long-distance communication was especially innovative for its time, and it paved the path for future forms of communications, which have led to the numerous methods currently available.
Today, there is a replica of the hydraulic telegraph of Aeneas Tacticus and pertinent messages from periods of war at the OTE Group Telecommunications Museum in Athens.
Edmonds Woodway Amateur Radio Club celebrates five years of connecting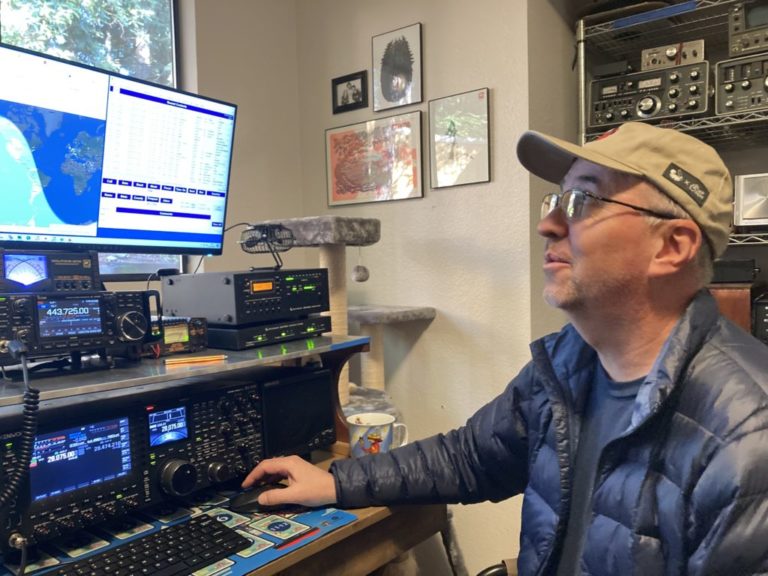 Two small ham radios sit on top of a larger ham radio on Ed Sershon's desk at his home in Edmonds. He turns a dial to hone in on a signal that was coming from Argentina.
Beeps, static and a few whistles filled the air while two computer monitors above the radios showed the current weather, solar conditions and a Mercator map of the night and day cycle around the world. Sershon's friend Greg Gadbois sat behind him, sipping his coffee and staring at the screens.
A voice garbled on the radio like an Imperial droid from Star Wars. Sershon grabbed the lollipop microphone on the table and tried to make contact with the person on the radio, but that person continued to garble as if they did not hear Sershon.
"Oh, well," he said. "That happens sometimes."
Sershon is the club president of the Edmonds Woodway Amateur Radio Club, where members celebrated its five-year anniversary this month at the Lake Ballinger Center. Members meet every Tuesday evening on the air and every second Thursday of each other month in person.
"I have been interested in radio and electronics since middle and high school," said Sershon, who has had his own radio callsign (N7PHY) since the early 1990s. "Greg and I try different bands and modes, build different antennas, different service opportunities such as the emergency preparedness bit. I do like to communicate with people and keep in touch with new folks."
Communicating with a ham radio is not too different from chatting online, Sershon added, but some setup is required. All Sershon did was set up the radio station at home, put an antenna on a tree, and piece together his own station. However, not everyone needs a setup like his.
"There's different radios for different purposes," Sershon said. Pointing to his radio setup, he said: "This one's very expensive and unnecessary." He then pulled out an example of what most people need: a handheld radio – which resembles a typical walkie-talkie – that he purchased on Amazon for $30.
Radio bypasses a third-party system like a central server or cell tower used for internet and cell phone communication. If these systems are down due to a disaster such as an earthquake, people with ham radios – also known as amateur radio – can still communicate locally, state-to-state or even internationally.
"Governments will shut down amateur radio during a war," Sershon said. "The U.S. did it during World War II. Ukraine did initially, but I see Ukrainian stations on again. I don't know what their current status is."
"We can get messages across and ask someone, 'Can you call so-and-so's relative to let them know we're OK?'" said Gadbois, who is the treasurer of the Edmonds Woodway Amateur Radio Club.
Gadbois received a crystal radio set for Christmas when he was a child and later started his ham radio hobby in 1975. His father, who served in the U.S. Army, had described how military personnel would correspond with each other, which got him fascinated with radio.
He said that he is learning about new places around the world whenever he is on the radio, such as Malawi and the island of Timor.
"This is so cool, it's like talking to people from outer space," he said in describing his first ham radio experience.
"I love it for many reasons. First, I love to talk," Gadbois continued. "It's 24/7. While we're asleep, there's always something going on, so it's a hobby that you can do any time of the day. You can do it on land, mobile or handheld. I got them all."
Gadbois even talked to two people from England simultaneously – one who was on a home phone while the other was on a cell phone from his car.
"I never forget that I talked to a guy in Israel," he said. "He was a maintenance guy like myself. This had this huge, huge, station, halfway across the world."
Despite the prevalence of the Internet and other digital technologies, Gadbois added that ham radios are still used widely today, including by emergency medical technicians, pilots and aviators, and even for marathons and similar events.
He recalled the 2019 Tunnel to Viaduct 8K Run/Walk in downtown Seattle, where he volunteered as a support staff to monitor the runners' safety.
"The level of help from ham operators to police to fire spread out on this course was just the funnest thing I've ever done," he said. "People knew why we were there. We wore the bright vests and they saw the radios and they were high-fiving us and said, 'Hey, how you're all doing? Thanks for doing this!' It was fantastic, but I was worn out by noon."
A license is required to transmit for both amateur and commercial radio because there are a limited number of frequencies available.
Governments around the world have been keeping tabs on radio transmissions since the early 20th century after the International Radiotelegraph Convention of 1906 took place in Berlin, Germany. It was the result of international efforts to establish regulations for the rapidly growing field of wireless telegraphy, which laid the foundation for modern radio communication.
Radio licensing via the Federal Trade Commission (FTC) includes radio theories, rules and regulations, and a multiple-choice test before a callsign and license are issued, Gadbois said. Anyone who is caught cheating in the licensing process can have their licensing privilege removed for good by the FCC.
"It's done very strictly, it's very by the book, and it's very government boring," Gadbois said.
"If you're just dipping your toe into this or you know that you'll never be in radio, buy one, have a ham friend program it for the local frequencies, charge it up, and put it away," Sershon said. "Everyone can own a radio and listen to one, [but] a license is needed to transmit. If an earthquake happens and you need a radio, it'd be too late to order one."
Sershon suggests first-timers look up the requirements for licensing, including what to study and where to take the licensing test. They should also research what to do with the radio, which will guide what to buy.
Gadbois suggested a few professional amateur radio suppliers, such as Amateur Radio Supplies, Texas Towers and Ham Radio Outlet. Sershon suggested visiting Amazon to purchase a starter set, like a VHF/UHF hand-held starter radio for less than $20. Hardcore radio hobbyists can get a base station receiver that can pick up a wider frequency range, allowing users to communicate internationally. These cost more than $2,000.
"The experience of talking to different people in different areas, to me, is everything," Gadbois said. "It's not like you can get on and say, 'I'm gonna talk to this guy in New Zealand.' The [radio] propagation has to be there. It's like fishing."
The Edmonds Woodway Amateur Radio Club was started on Nov. 20, 2018 by John Vanderbeck, who had his ham radio license since 1956 and has been "on the air" for most of that time. He said that he started the club because he felt that "being retired was lonely."
"My wife Fran and I moved to Edmonds from a condo near Kinnear Park in Seattle after my retirement in 2004," Vanderbeck said in an interview. "I worked in electronics. While working, I had plenty of company. Lunch every day with people who did the same work."
He discovered in 2016 that there were more than 300 ham radio users in the 98020 zip code area but the closest radio clubs were in Everett and Kent – with none in Edmonds. He mailed postcards to all of Edmonds users, inviting them to join and help build a local club.
"There was no response [initially]. Two years later, I did the same thing," Vanderbeck said. "This time Greg Gadbois (N7IAD) and Jerry Johnson (WA7EDM) replied. We met at the Pancake Haus in Edmonds for breakfast, and the club was born. We made Greg president, Jerry vice president, myself John Vanderbeck (KM7O) as secretary, and soon added Barry Hansen (K7BWH) as treasurer."
Currently, the club has more than 100 club members from Edmonds, Woodway, Mountlake Terrace, Shoreline and other nearby neighborhoods. While 55 members are actively paying the monthly membership, which covers clubhouse rentals and website maintenance, Gadbois said that the club is a nonprofit and people do not have to pay to participate.
Meanwhile, Gadbois said that he would like to see the club connect with schools and teach about radio licensing and ham radios, adding that plans for school outreach fell apart during the COVID-19 pandemic.
"We were going to work with Mountlake Terrace High," he said. "They asked us if we can come to the school and teach the kids how to get a basic license to operate drones on a 6-meter bandwidth."
While ham radios have a more-than-120-year history, Vanderbeck said that teaching young people today about them is important as part of growing up. Many youth have "lost touch with technology" and do not really understand how things work, he added.
"When I was young, almost all young men knew how to service an automobile, change the tubes in a television, do repairs on their home, etc.," he said. "My high school had a metal shop, wood shop and an auto shop. Now young people have lost all these skills because the technology is too advanced. Hams [ham radio users] can still build their own equipment and understand how it works. This alone brings great satisfaction.
"Hams have made sure that if all the power is off and all the cell phones are not working, they can still communicate," he continued. "This has been proven many times in disasters around the world. In the mountains where you have zero bars on your cell, you can still reach help via a handheld amateur radio transceiver."
"Amateur radio has always been like a miracle to me," Vanderbeck said. "With just a piece of wire for an antenna, you can be in contact with people all over the world."
Visit the Edmonds Woodway Amateur Radio Club website for more information about the schedule and activities.
TUESDAY EDITION: The switch turned and its winter here, snow inland and up in NH and Maine ....
State to soon come up with a temp
Kolkata: The state government has set the ball rolling for setting up a temporary ham radio station at Mousuni Island under Namkhana block in South 24-Parganas considering its vulnerability to frequent cyclonic weather conditions as well as major natural disasters. The district administration with the assistance of ham radio enthusiasts are using a trial and error method for identification of the areas where there is availability of good signal and the area having the best of signal will have such a radio station. "Whenever there is a natural calamity, the normal communication system goes haywire and so the district administration can't establish contact with the local administration in different remote islands of the Sundarbans, including Mousuni Islands where transportation is a major challenge and waterways being the only option.
The temporary ham radio station will come in handy during such a disaster as the district administration will be able to know what sort of assistance in terms of relief is required for the people there. "We are already getting satisfactory results in this signal aspect and we are hopeful that we will be able to soon identify the most suitable place and set up a temporary station. Once we have done this, we will gradually proceed to set up a permanent one," Rupam Dutta, Block Disaster Management Officer, Namkhana said. The state Disaster Management department joined hands with the West Bengal Radio Club and Indian Academy of Communication and Disaster Management and hosted a two-day demonstration regarding setting up of radio station, placing of the antennae for proper communication, the harnessing of solar power in the establishment of communication and other nitty gritties for the local residents of Mousuni Island last weekend.

"Students from local schools and colleges as well as common people participated in the training realising the fact that they are the first responders to any sort of natural calamity," Ambarish Nag Biswas, general secretary of West Bengal Radio Club said. Dibas Mondal and Dipak Chakraborty who have a fair knowledge of working in the islands of the Sundarbans during natural calamities took an active part in the event. As many as 45 civil defence volunteers of South and North 24-Parganas district have already received ham radio licences and permanent ham radio stations have already come up in Gangasagar and Gosaba. They also joined the hands-on training at Mousuni Island on Saturday and Sunday.
Russian space simulation experiment isolates six volunteers for a year...and avoid the Ukraine draft..
The mission will mimic the conditions of a deep space journey, with the crew performing a lunar flyby, multiple landings on the moon, orbital maneuvers, and rover operations on the lunar surface.
Six Russian volunteers have embarked on a year-long simulated space mission, as part of the SIRIUS project that aims to study the effects of long-duration isolation on human health and performance.
The SIRIUS-23 crew entered their mock spacecraft on November 14, at the Institute for Bio-Medical Problems (IBMP) in Moscow, where they will live and work in a confined environment for 360 days. The IBMP is a renowned research institute that has been conducting experiments on human space exploration for 60 years.
Mimic the conditions of a deep space journey
The mission will mimic the conditions of a deep space journey, with the crew performing a lunar flyby, multiple landings on the moon, orbital maneuvers, and rover operations on the lunar surface. The crew will also face various technical and psychological challenges, such as equipment malfunctions, communication delays, and interpersonal conflicts.
MONDAY EDITION: Damn cold this morning on the island, so much for outside stuff today...another solar flare
Hundreds gather for 51st Annual Fort Wayne Hamfest
FORT WAYNE, Ind. (21Alive) - Amateur radio enthusiasts gathered at the Allen County War Memorial Coliseum this weekend for the Fort Wayne Hamfest and Computer Expo.
The two day convention brought together both local amateur radio clubs, and clubs from across the region, to share their love for amateur radio, buy equipment to improve their set-ups, and learn more about amateur radio.
Organizers of the event say it's is a chance to raise awareness about ham radio and the role it plays in our society while sparking new interest in the decades old hobby.
Charles Ward with Fort Wayne Hamfest says, "Amateur radio is a gateway to our youngsters to experience and get engaged in our stem activities because you use a lot of science, technology, math. There's a lot of things like that involved in amateur radio, and amateur radio is the spirit of experimentation. We do a lot of experimenting because we try to figure out how to make things work and make them work."
This year marked the 51st year for the event, sponsored by the Allen County Amateur Radio Technical Society
You Have Been Warned!
If you'll invest a few minutes to read this article to the end, you may find you've saved not just money but your self-respect as well. As you move through these comments let's get one thing out of the way right up front: I should have known better. That being said, please no hate mail, all you naysayers just bite your tongues and no finger pointing. Let's just crack on.
When I buy or sell items through the eHam Classified section, I don't just submit an ad then forget about it. If I post an ad, I let it run it for a little while then I'll remove it when it's completed its work or has worn out its welcome. I find it annoying to reach out to someone about some gear he's selling through an ad here on eHam only to get a reply from the seller saying he sold that 6 months ago! Well, did it ever occur to him to mark it as SOLD or to delete the ad? Does anyone really want all those inquires to continue after it sold? It reminds me of a teacher in high school who'd respond to some kid acting out in class by saying aloud for everyone to hear, "What do you think this is? Your home?" implying of course to the offender and anyone else in class laughing his head off at him that you're in public now, everyone is watching so don't do that here. The web sites are here for us all, not a place to dump an ad then walk away when it's used up. Needless to say, I clean up my ads once they're done.
Viewers used to hear on "Dragnet" years ago, "...The story you are about to hear is true. Only the names have been changed to protect the innocent.". The following account is true.
A short time ago I posted a WTB on eHam (but it could have been on any such website whether or not ham radio related) for an item which due to the pandemic had become impossible to find new from any of the retail outlets including the manufacturer. I let the ad run for a couple of weeks or so but had no responses. I deleted the ad and re-posted it so it would be seen on the top by more viewers who don't scroll very deep into the ads. Because so many of the ads on eHam are dead wood after a few weeks I'm thinking folks don't even bother looking much farther than the first page or so. Anyway, I posted it anew and within a couple of hours I got a response from a guy who said he had what I was looking for sitting on a shelf collecting dust. We worked out a win-win deal and he said he'd get back to me the next day after he put it on the bench to test. Sadly though it was dead and we both agreed the deal was off. After a few more days someone else saw my WTB ad and reached out to me saying he had the unit I was looking for which hadn't really been used and sent pictures of it. Great! I thought and responded that I'd take it. Fast forward two weeks and almost $800 later, I still have no product. What's more I'd been scammed by someone who'd taken on the identity of a legitimate ham who had no idea his good name and callsign was being used by this interloper. The details of this incident while important I simply don't wish to smear more egg on my face than is absolutely necessary, a few details will be used sparingly. Here are some red flags to look out for when you are buying gear:
1. Under no circumstances should you ever use Friends and Family unless you know the guy at the other end personally. If your cousin stiffs you out of money, you know where he lives and you can always send Guido over to tap his knee caps. Never ever use Friends and Family if you do not know the other party. Never! It doesn't matter what they say to sweet talk you into using F&F just don't do it. Tell them you'll cover the PayPay fee of 2.9% and maybe split the shipping. At least with PayPal Goods and Services you have recourse if the seller doesn't ship the item. F&F you are totally on your own. Do not be lulled into thinking one or the other is a faster way to complete the deal. Likewise, sending a money order or a cashier's check has its own risks: you still might not get your item and what recourse do you have then?

2. Make sure the email address being used by the other guy is legitimate, that it belongs to the right guy. The email address you're corresponding with should also be their PayPal link. If they differ, STOP! In my case, the guy "selling" to me created a gmail account that looked legitimate. He was fast to respond to inquires. Verifying email addresses with ham operators is a bit easier than most because we tend to leave footprints. Some of the guys reading this have different email address for eHam, the FCC and PayPal. When you do that just know, you're making it harder to do business with. NO ONE wants to take the risk of being directed to an alternate address. If however you make the effort to post a question to one address then insist he provide the answer on the known email address. If you're dealing with an eHam transaction, search on the QTH classifieds to see if the same guy has a WTB there. There's a way to contact the real owner so you can ask if you and he have been talking through "this other" email address. If he says, "No, that's not me" then you're done. You just saved yourself a ton of headache and you still have your money. Verify the seller! Verify the buyer!

3. If the other party is licensed in the U.S., is the email address you're transferring funds to registered in the U.S. too? You can tell if before you hit the send [the money] button in PayPal, if a screen pops up confirming that your U.S. Dollars will be converted to Canadian Dollars or rubles, peso's or some other currency, STOP! Go no further. If a currency conversion pops up and it's unexpected, stop the transaction. This is probably a scam.

4. If in email or a phone conversation the other party assures you that he'd "never stiff a [fellow] ham" or assures you of his integrity, or is too old or honest to take advantage of your good nature, STOP! I've heard these lines before and every time stiffing you and being lied to is exactly what's going on.

5. Verify, verify, verify.

Most of us have never had a problem buying and selling when using online ham sites. However, it only takes one bad, one REALLY bad deal to tank your radio budget for a long time. It's unfortunate that people lie. It's unfortunate when someone gives you their word, it sometimes is meaningless, It is truly sad that people have a greater propensity for greed than having empathy for others around them. It is difficult to enjoy life when total strangers are hell-bent on causing harm to others, who if the tables were turned would feel just as incensed.
I'll leave you with two pieces of advice from very wise men which I had set aside briefly that are now engraved in my mind.
Be wise as serpents and harmless as doves
O be wise; what can I say more?
I'm not saying don't trust others. I'm not saying to stop using online classified ads. And I'm not saying to not use PayPal. Please realize there're more crooks out there than ever before. Use common sense. Don't be in such a hurry to get that radio, that mic, that amp or tuner that you throw caution out the window. Verify the other source.
"No way!" I said to myself when I saw that Alcatraz Island is an official Parks-on-the-air (POTA) reference which has only been activated four times by two operators.
It surprised me that such a historically relevant site hasn't seen more ham radio activity in the past – or maybe it has, just not for POTA. I then got super excited as I was packing my bags for San Francisco.
I have missed this foggy beauty so much and it has been many years since I visited the city. I won't bore you with the ordeal of our travel but it included canceled flights, multiple delays and rescheduling via Berlin and London the next day due to a hostage situation at Hamburg airport. So our already super short trip of 4.5 days shrunk into a good 3 days in SF. So which things to cross off the schedule now? It was clear that this unfortunate situation was certainly not going to eat into my activation budget. Hell no!
I admit since watching "The Rock" (1996) Alcatraz has always been a place of mystery and fascination to me. Those who are interested in reading more about the former fort, military prison and federal penitentiary can do so here.
After I learned that it was also a CW ATNO I instantly said: "Done deal. The ink is dry. I will activate with morse code in the shadows of Sean Connery, Nicolas Cage and Ed Harris". Of course I would do it plain vanilla style throwing good ol' wires in trees and staking pointy things in the ground. Yeah right. Sometimes passion does tend to carry you away a wee bit so a little later I gathered myself and started doing some research.
Apparently the first POTA pioneer on Alcatraz was KC1MIJ who managed to get 5 QSOs in with an FM HT in July 2021. I'd say that's pretty awesome for a location almost as low as sea level. The first successful activation was done on December 3rd 2021 by Elizabeth "Liz" N6LY and her husband Kevin K6YD. Since then both of them had only been back one time in December 2022 for another day to achieve a whopping cumulative 761 phone QSOs in only two days of total operation. Wow! What an achievement. No other hams have tried to activate Alcatraz since. FULL STORY